White Marijuana Beret (Item ID# 9642)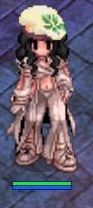 Eh man! This White Beret enables one to stand attention whenever they're smoking WeeD!
All stats + 10. Mspeed + 10%. MaxHP and SP - 10%. Decreases damage from long range attacks by 15%.
If White WeeD is equipped, adds 5% chance for a monster to drop Holy Water when killed.
Impossible to refine this item.
You'll need the following:
100 Feather of Angel Wing (Item ID# 7079)
1 Wonder Nutshell1 (Item ID# 5050)
100 Bloody Page (Item ID# 7449)
200 Glossy Hair (Item ID# 7152)
20 Gajomart Card (Item ID# 4151)
100 Million Zeny
Take this list to Bubba Marley located at mystic_shop 160 210.
1The Wonder Nutshell is not dropped by mobs. You'll need: 1 Nutshell (Item ID# 5037), 500 Wing of Dragonfly (Item ID# 7064). Take these items to xmas 117, 295 and feed them into the vending machine for the hat.
page revision: 2, last edited:
06 May 2014 15:51