White Fairy Wings (Item ID# 9146)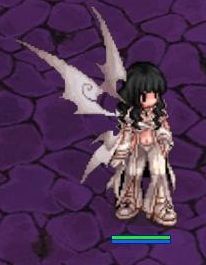 All stats +10
DEF +20, MDEF +10, Flee +20
Grants resistance to Undead property
Gives Holy property attack
Adds a 10% chance to auto casting Level 5 Heal when attacked
Enables use of Level 5 Steal.
You'll need the following:
2,000 Stardust (Item ID# 1001)
1,000 Opal (Item ID# 727)
1,000 Lv5 Heal Scroll (Item ID# 12002)
1,000 Holy Water1 (Item ID# 523)
100 Feather of Angel Wing (Item ID# 7079)
100 White Dyestuff (Item ID# 982)
50,000,000 Zeny
Take these items to Wing Master at mystic_shop 249 88.
1Holy Water can be obtainable by following options:
Made by an acolyte class with Aqua Benedicta skill. Elephant Hat (1 ticket from Ticket Exchanger) will provide you Aqua Benedicta Skill as well.
Wearing White M Beret and White Weed from Bubba Marley.
page revision: 4, last edited:
20 May 2014 13:07