Thief Card (Item ID# 9378)
The Thief Card is a custom accessory card that is both tradeable and the stat bonuses stack.
It adds 20 to Agi, and allows the use of Back Slide and Increase Dodge.
Take the following list:
50 Immaterial Arrow Quiver1a (Item ID# 12014)
50 Steel Arrow Quiver1b (Item ID# 12006)
50 Oridecon Arrow Quiver1c (Item ID# 12007)
5 Pyroxene (Item ID# 7296)
20 Powder of Butterfly (Item ID# 924)
5 Pellet (Item ID# 7226)
1 Slingshot (Item ID# 7195)
10 Izidor (Item ID# 709)
50 Empty Test Tube2 (Item ID# 1092)
50 Empty Potion Bottle3 (Item ID# 1093)
50 Empty Bottle (Item ID# 713)
1 Broken Liquor Jar (Item ID# 7158)
1 Bent Spoon (Spoon Stub)
1 Detonator (Item ID# 1051)
1 Shining Spear Blade (Item ID# 7109)
To the Mystic Card Store, who can be found at mystic_shop 118 131. She's pictured below, different area but same NPC I promise.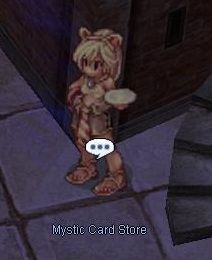 1a-c Besides from monsters, quiver can be made by bringing 500 arrows to the Inventor Jaxx located at payon_in01 5 134 if you preferred to stayed alive from the monsters.
2, 3Empty Test Tubes and Potion Bottles are not dropped by mobs but must be bought. There is an npc, Tool Dealer, located at geffen_in 171 123, or there is one located in the Item Mall, Alchemist Shop at dellar 112 39.
page revision: 12, last edited:
26 May 2014 01:04