Red WeeD (Item ID# 9649)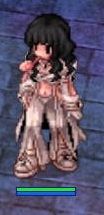 Smoke it well, smoke it good! As the Rastaman, Boby Marley said: "If you get down and quarrel everyday, you're saying prayers to the devil, I say." After reading this passage, you become a Mudkip! Yay!
Decreases damage from melee attacks by 15%. Raises flee by 10%. Impossible to refine this item.
You'll need the following:
200 Bloody Rune (Item ID# 7563)
500 Mystic Coin (Item ID# 9148)
200 Burnt Tree (Item ID# 7068)
500 Mantis Scythe (Item ID# 1031)
20 Am Mut Card (Item ID# 4245)
100 Million Zeny
Take the items needed to Bubba Marley located at mystic_shop 160 210.
page revision: 2, last edited:
16 Apr 2014 23:56