Merchant Card (Item ID# 9374)
The Merchant Card is a custom accessory card, they are tradeable and the stat bonuses are stackable.
It adds 20 to Strength, and allows use of Mammonite and Loud Exclamation.
Take the following list:
50 Destroyed Armor (Item ID# 7069)
50 Blade of Darkness (Item ID# 7023)
25 Bloody Edge (Item ID# 7024)
1 Broken Crown (Item ID# 7754)
1 Broken Farming Tools (Item ID# 7753)
50 Broken Shuriken (Item ID# 7156)
1 Executioner's Mitten (Item ID# 7017)
15 Strange Steel Pieces (Item ID# 7167)
20 Armor Pieces of Dullahan (Item ID# 7210)
1 Shining Spear Blade (Item ID# 7109)
To the Mystic Card Store, who can be found at mystic_shop 118 131. She's pictured below, different area same NPC i promise.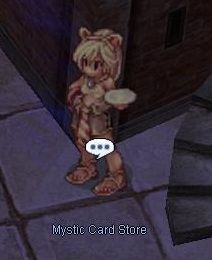 page revision: 9, last edited:
20 May 2014 19:32