Crystal Wings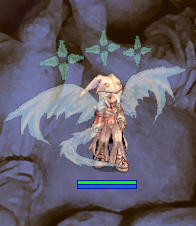 For those days when you're feeling short and irritable, yet OP.
Why this wing are so worth making:
All stats +10
DEF +20, MDEF +10, Flee +20
INT +100
Reduces damage from Neutral element attacks by 50%
Infilcts 25% more damage with Earth Spike, Heaven's Drive, Gravitation Field and Quagmire
Enables use of Level 5 Heal.
Visit the Crystal lord at mystic_shop 246 134.
He will ask you to bring him the following:
500 Mystic Frozen (Item ID# 995)
250 Blue Bijou (Item ID# 7446)
100 1Carat Diamond (Item ID# 730)
100 2Carat Diamond (Item ID# 731)
100 3Carat Diamond (Item ID# 732)
100 Cracked Diamond (Item ID# 733)
500 Crystal Blue (Item ID# 991)
200 Mystic Coin (Item ID# 9148)
500 Crystal Fragment (Item ID# 7321)
20,000,000z
Return to him with these required items and be granted your place among the Tenth Division.
page revision: 6, last edited:
20 May 2014 11:32