Blue Marjiuana Beret (Item ID# 9636)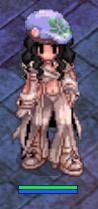 Eh man! This Blue Beret enables one to stand attention whenever they're smoking WeeD!
All stats + 10. Mspeed + 10%. MaxHP and SP - 10%. Decreases damage from long range attacks by 15%.
If Blue WeeD is equipped, adds 5% chance for a monster to drop Sharp Paper when killed.
Impossible to refine this item.
You'll need the following:
100 Sharp Paper (Item ID# 7112)
1 Smokie Leaf1 (Item ID# 5064)
100 2Carat Diamond (Item ID# 731)
200 Fluff (Item ID# 914)
20 Byorgue Card (Item ID# 4426)
100 Million Zeny
Take this list to Bubba Marley located at mystic_shop 160 210.
1The Smokie Leaf is not dropped by mobs. You'll need: 600 Raccoon Leaf (Item ID# 945), and 1 Claw of Desert Wolf (Item ID# 7030). Take these to Traveler located at morocc 273 79.
page revision: 3, last edited:
06 May 2014 15:45