Blue Ice Shard Wings (Item ID# 9768)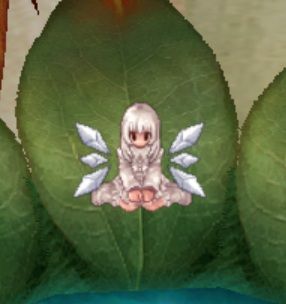 All stats +10, Def +10, Mdef +10, Flee +20, Int +50, Str +50, Max HP/SP +10%, Movement Speed +10%,
Chance of autocast Storm Gust level 10 by 5%, Gives Water Property attack, and Gives 25% Fire resist.
You'll need the following:
500 Freezing Snow Powder (Item ID# 7574)
500 Small Snow (Item ID# 6098)
6 Ice Scale (Item ID# 7562)
6 Fang of Garm (Hatii) (Item ID# 7036)
1000 Ice Cubic (Item ID# 7066)
300 Glacial Heart (Item ID# 7561)
50 Cobaltblue Dyestuff (Item ID# 978)
5000 Blue Charm Stone (Item ID# 7428)
300 Crystal Blue (Item ID# 991)
1 Katar of Frozen Icicle [3]** (Item ID# 1256)
5,000,000 Zeny
Take this list to Mr. Snowier who can be found at mal_in01 24 173.
**A 3 slotted katar is not dropped by mobs. The Item ID# is for the non-slotted one that drops from mobs or it can be bought for 45k at the item mall. Take it to Leablem, i like to go to the one at Payon 236, 199. Take along 2 Ori, 500k Zeny, and the weapon to have him try and slot it. There is a 25% Success rate, so make sure you've got extras. This is the socket enchant page at RMS.
page revision: 2, last edited:
18 May 2013 00:18