Valkyrie Quest
To collect any of the custom Valkyrie items you need to start here. It's fairly long quest so make sure you remember where you left off or that you've got a fair amount of time to do it.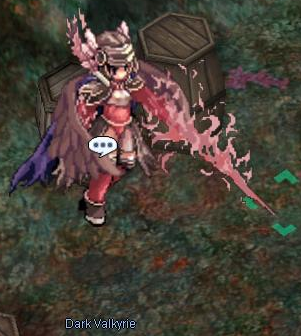 First step is to go talk to Dark Valkyrie located at mystic_shop 142 86 (she's shown just above this). On your first visit, make sure you
DO NOT
have any of the quest items, cause she's kinda mean and will take the items and then you'll have to regather everything. So just go talk to her BEFORE you farm anything, or BEFORE you pull anything out of storage. She'll desire an offering of the following items:
50 Valhalla's Flower (Item ID# 7510)
100 Blue Feather (Item ID# 7441)
100 Red Feather (Item ID# 7440)
10 Valkyrie's Armor (Item ID# 2357)
10 Valkyrie's Manteau (Item ID# 2524)
10 Valkyrie's Shoes (Item ID# 2421)
10 Valkyrie Shield (Item ID# 2115)
After delivering this first batch of items she'll send you to talk to Ghenirhemin, he's located at hugel 146 103. This NPC is the RO Official Quest for the Valkyrie Helm [1]. You need to have 10 Million Zeny on your character before he'll talk to you. He's a bit spacious so keep talking to him until he mentions the Helm and the list of items needed.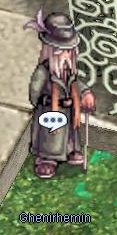 Eventually though he'll ask for the following items:
10 Million Zeny
1 Sage Worm Card (Item ID# 4219)
1 Argiope Card (Item ID# 4114)
1 Dryad Card (Item ID# 4177)
1 Wooden Golem Card (Item ID# 4259)
1 Bogun Card (Item ID# 4212)
1 Pirate Skeleton Card (Item ID# 4073)
1 Marduk Card (Item ID# 4112)
1 Hode Card (Item ID# 4081)
1 Elder Card (Item ID# 4251)
1 Nightmare Terror Card (Item ID# 4166)
1000 Rune of Darkness (Item ID# 7511)
1000 Blood Rune (Item ID# 7563)
Once you gather the above items take them back to Ghenirhemin, and just keep talking to him several times and eventually he will fork over Valkyrie Helm [1]. Take this back to Dark Valkyrie, and she'll ask for another list of items in order to make you a custom, standard Valkyrie Helm. The list is:
500 Holy Water (Item ID# 523) This item cannot be bought and must be made with an Acolyte Class, skill Aqua Benedicta, Elephant Hat (1 ticket from Ticket Exchanger) with Empty Bottles; which also dropped with a White M Beret and White Weed set.
500 Cursed Water (Item ID# 12020)
500 Red Charm Stone (Item ID# 7426)
500 Blue Charm Stone (Item ID# 7428)
500 Green Charm Stone (Item ID# 7429)
500 Black Charm Stone (Item ID# 7430)
100 Crystal Fragment (Item ID# 7321)
Bring her these final(ish) items and she'll give you the Standard Custom Valkyrie Helm [1]. This is where it branches out. If you bring this headgear back to her she'll offer to make a colored one for you. They come in the following colors:
Black Valkyrie Helm
100 Black Dyestuff (Item ID# 983)
50 Biotite (Item ID# 7297)
Blue Valkyrie Helm
100 Cobaltblue Dyestuff (Item ID# 978)
50 Pyroxene (Item ID# 7296)
Brown Valkyrie Helm
8 Scarlet Dyestuff (Item ID# 975)
8 Orange Dyestuff (Item ID# 980)
20 Black Dyestuff (Item ID# 983)
25 Piece of Shield (Item ID# 7108)
Cyan Valkyrie Helm
100 Cobaltblue Dyestuff (Item ID# 978)
10 White Dyestuff (Item ID# 982)
150 Illusion Flower (Item ID# 710)
Gold Valkyrie Helm
10 Lemon Dyestuff (Item ID# 976)
10 White Dyestuff (item ID# 982)
50 Citrine (Item ID# 7295)
Green Valkyrie Helm
100 Darkgreen Dyestuff (Item ID# 979)
50 Peridot (Item ID# 7289)
Orange Valkyrie Helm
20 Orange Dyestuff (Item ID# 980)
50 Countermagic Crystals (Item ID# 7578)
Pink Valkyrie Helm
10 Scarlet Dyestuff (Item ID# 975)
10 White Dyestuff (Item ID# 982)
25 Gemstone (Item ID# 7300)
Purple Valkyrie Helm
20 Violet Dyestuffs (Item ID# 981)
25 Mother's Nightmare (Item ID# 7020)
Red Valkyrie Helm
20 Scarlet Dyestuff (Item ID# 975)
50 Muscovite (Item ID# 7292)
Silver Valkyrie Helm
10 White Dyestuff (Item ID# 982)
100 Black Dyestuff (Item ID# 983)
25 Fragment of Rosetta Stone (Item ID# 7211)
White Valkyrie Helm
25 White Dyestuff (Item ID# 982)
50 Agate (Item ID# 7291)
Yin Yang Valkyrie Helm
10 White Dyestuff (Item ID# 982)
40 Black Dyestuff (Item ID# 983)
500 Holy Water (Item ID# 523) This item cannot be bought and must be made with an Acolyte Class, skill Aqua Benedicta, Elephant Hat (1 ticket from Ticket Exchanger) with Empty Bottles; which also dropped with a White M Beret and White Weed set.
500 Will of Darkness (Item ID# 7340)
500 Bloody Runes (Item ID# 7563)
500 Darkness Runes (Item ID# 7511)
After coloring your Helm you now have the option of making a matching set of Valkyrie equipment. Talk to Dark Valkyrie with your colored helm and she'll give you a new dialog option: Make "color" Valkyrie Set. Example: When your done making your White Valkyrie Helm and talk to the Dark Valkyrie again, you will notice that a new menu popped out titled: Make White Valkyrie Set. You can only make the following colors:
Black Valkyrie Set
2000 Black Charm Stone (Item ID# 7430)
1000 Darkness Rune (Item ID# 7511)
500 Steel (Item ID# 999)
500 Valhalla's Flowers (Item ID# 7510)
20 Black Dyestuffs (Item ID# 983)
5 Valkyrie's Armor (Item ID# 2357)
5 Valkyrie's Manteau (Item ID# 2524)
5 Valkyrie's Shoes (Item ID# 2421)
5 Valkyrie Shield (Item ID# 2115)
1 Million Zeny
Blue Valkyrie Set
2000 Blue Charm Stone (Item ID# 7428)
1000 Mystic Frozen (Item ID# 995)
500 Steel (Item ID# 999)
500 Blue Bijou (Item ID# 7446)
20 Cobalt Blue Dyestuffs (Item ID# 978)
5 Valkyrie's Armor (Item ID# 2357)
5 Valkyrie's Manteau (Item ID# 2524)
5 Valkyrie's Shoes (Item ID# 2421)
5 Valkyrie Shield (Item ID# 2115)
1 Million Zeny
Brown Valkyrie Set
2000 Logs (Item ID# 7201)
1000 Barren Trunks (Item ID# 1068)
500 Steel (Item ID# 999)
500 Broken Farm Tool (Item ID# 7753)
10 Orange Dyestuffs (Item ID# 980)
10 Scarlet Dyestuffs (Item ID# 975)
5 Valkyrie's Armor (Item ID# 2357)
5 Valkyrie's Manteau (Item ID# 2524)
5 Valkyrie's Shoes (Item ID# 2421)
5 Valkyrie Shield (Item ID# 2115)
1 Million Zeny
Green Valkyrie Set
2000 Green Charm Stone (Item ID# 7429)
1000 Green Bijous (Item ID# 7445)
500 Steel (Item ID# 999)
500 Cog Wheel (Item ID# 7093)
20 Dark Green Dyestuffs (Item ID# 979)
5 Valkyrie's Armor (Item ID# 2357)
5 Valkyrie's Manteau (Item ID# 2524)
5 Valkyrie's Shoes (Item ID# 2421)
5 Valkyrie Shield (Item ID# 2115)
1 Million Zeny
Purple Valkyrie Set
1500 Little Ghost Doll (Item ID# 7268)
1000 Dragon Scale (Item ID# 1036)
500 Dragon Horn (Item ID# 7265)
500 Denture from Dragon Mask (Item ID# 7266)
20 Violet Dyestuff (Item ID# 981)
5 Valkyrie's Armor (Item ID# 2357)
5 Valkyrie's Manteau (Item ID# 2524)
5 Valkyrie's Shoes (Item ID# 2421)
5 Valkyrie Shield (Item ID# 2115)
1 Million Zeny
Red Valkyrie Set
2000 Red Charm Stone (Item ID# 7426)
1000 Bloody Rune (Item ID# 7563)
500 Steel (Item ID# 999)
500 Red Bijous (Item ID# 7447)
20 Scarlet Dyestuff (Item ID# 975)
5 Valkyrie's Armor (Item ID# 2357)
5 Valkyrie's Manteau (Item ID# 2524)
5 Valkyrie's Shoes (Item ID# 2421)
5 Valkyrie Shield (Item ID# 2115)
1 Million Zeny
White Valkyrie Set
2000 3 Carat Diamond (Item ID# 732)
500 2 Carat Diamond (Item ID# 731)
500 Steel (Item ID# 999)
500 1 Carat Diamond (Item ID# 730)
20 White Dyestuffs (Item ID# 982)
5 Valkyrie's Armor (Item ID# 2357)
5 Valkyrie's Manteau (Item ID# 2524)
5 Valkyrie's Shoes (Item ID# 2421)
5 Valkyrie Shield (Item ID# 2115)
1 Million Zeny
Yin Yang Valkyrie Set
2000 Black Charm Stone (Item ID# 7430)
500 Darkness Rune (Item ID# 7511)
500 Steel (Item ID# 999)
150 Valhalla's Flowers (Item ID# 7510)
50 1 Carat Diamond (Item ID# 730)
10 Black Dyestuffs (Item ID# 983)
10 White Dyestuffs (Item ID# 982)
5 Valkyrie's Armor (Item ID# 2357)
5 Valkyrie's Manteau (Item ID# 2524)
5 Valkyrie's Shoes (Item ID# 2421)
5 Valkyrie Shield (Item ID# 2115)
1 Million Zeny
And that ends the Valkyrie Quests~! Congrats! You survived, with some pretty awesome stuff. <3
page revision: 6, last edited:
20 May 2014 23:54