Acolyte Card (Item ID# 9377)
The Acolyte Card is a custom accessory card, you can trade them and the stat bonuses are stackable.
It adds 20 to luck, and allows the use of Pnuema and Ruwach.
Take this list of items:
50 Destroyed Armor (Item ID# 7069)
50 Blade of Darkness (Item ID# 7023)
25 Bloody Edge (Item ID# 7024)
1 Broken Crown (Item ID# 7754)
50 Broken Shuriken (Item ID# 7156)
1 Executioner's Mitten (Item ID# 7017)
15 Strange Steel Pieces (Item ID# 7167)
20 Armor Pieces of Dullahan (Item ID# 7210)
1 Shining Spear Blade (Item ID# 7109)
To the Mystic Card Store, who can be found at mystic_shop 118 131. She's pictured below, different area but same NPC I promise.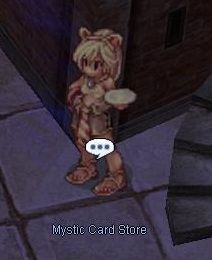 page revision: 16, last edited:
26 May 2014 01:01